Piotr Anderszewski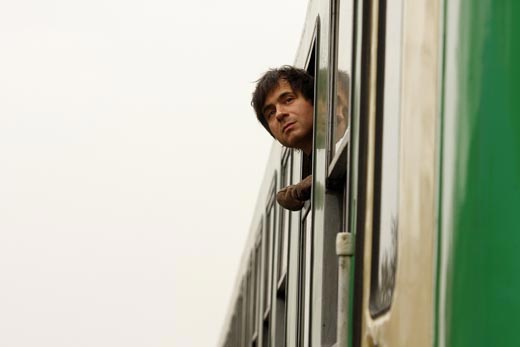 unquiet traveller
Everything about Piotr Anderszewski is extra-ordinary, above and beyond the norm. Not abnormal, but, as one might venture to say, "normally" paranormal, beginning, of course, with his musical talent. Now widely recognized as one of the very finest pianists of our time, he is above all a musician who has transcended the instrument he uses to perfection to give expression to his musical Ideas. His primary interest lies not in the piano, nor in piano music, but in music itself, and wherever possible music that is not striving to flaunt the dangerously flattering resources of the instrument.
The start of his career was itself extraordinary. At the age of just 20, a complete unknown at the time, Piotr Anderszewski took part in the prestigious Leeds International Piano Competition. Having made his way through to the semi-finals, he included in his programme Webern's Variation Opus 27, and Beethoven's monumental Diabelli Variations. His performance of these works dazzled critics and audiences alike. There was no longer any doubt, not only that he would reach the competition finals, but that he would be awarded the first prize. However, as the jury was about to announce his selection as a finalist, Piotr Anderszewski was already on a train back to Warsaw. Invitations from impresarios and recording offers came flooding in. He remained unmoved by them all, preferring to return to his pursuit of what mattered most to him – the extension and perfection of his art. Nonetheless, his career was well and truly launched.
Equally extraordinary is his repertoire. His recital programmes are skillfully composed of meticulously-prepared works that rarely draw on the rather hackneyed standard piano repertoire.
Also extraordinary are his intelligence, his ability to hold an audience in his sway, and his constant questioning of his work as a performer.
All of this conveys a sense of Piotr Anderszewski's originality. It has established him as the worthy successor, if we must use such a label, of the Richters, the Michelangelis, and the Glenn Goulds – in other words, of the most significant piano personalities of recent history.
It was clearly out of the question to attempt to approach such a complex character's world by relying on the cinematic conventions of filmed profiles. A film about this artist could only be unconventional. With Piotr's consent and active participation, if not in the writing process, at least in the conception of the scenario that would structure our film, my approach was based on a number of fundamental options.

shooting in Lisbon, july 2008
This would be a "frontier" film, on the borderline between documentary and fiction. It would be set against a backdrop of a winter journey across Poland, then to Hungary (his two home countries), before traveling to Germany, London, Paris, and finally to Lisbon, where he has recently settled. The chosen means of transport for these meanderings was hardly conventional. Like a modern-day troubadour, Piotr would not travel by airplane or car, but in a private train carriage hired for the purpose, which would be attached to various trains according to an itinerary dictated by places he wished to visit and his concert schedule. To Piotr, the planning of concerts years in advance and the rigid formality of concert halls are constraints that must be overcome in order to restore music's innate vibrancy and escape the relentless treadmill of a touring musician's lifestyle.
With a piano installed on board his carriage, Piotr would be able to practise, stopping wherever fancy took him, whether a church, or a village square – places associated with such-and-such a composer. We would unload the equipment required for impromptu recitals to be held at these sites.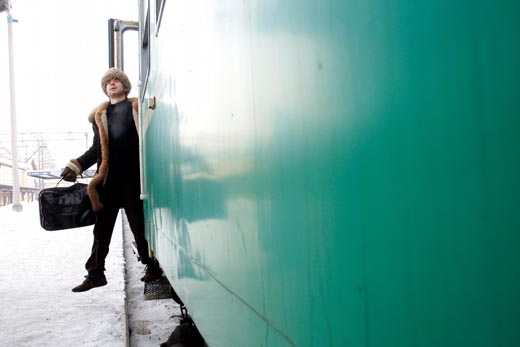 Of course, a train carriage could not serve as the sole setting for a feature-length film. As a means of transport, it would facilitate the use of flashbacks to recount a range of more sedentary activities, such as rehearsals, recording sessions, and the editing of a new disc. Its primary function, however, was as a place of meditation and reflection. This inspired the second main option I intended putting to use for our film: there would be no interviews. Everything that Piotr Anderszewski chose to reveal about himself would be narrated in voice-overs that would punctuate the various scenes we had planned to shoot.
A filmic structure incorporating the metaphor of rail travel with musical adventures and the narrative was essential, for I was determined that this "winter journey" would not resemble a superficial travelogue. I obviously had no doubts about the strong aesthetic impact of juxtaposing the poetic charm of winter in these Eastern European countries that we would visit and the intrinsic cinematic potential of the train (to be filmed interior and exterior). But we were striving for more than this. We were making a film about a fascinating musician, an enigmatic and multi faceted man; it was inconceivable to consider sacrificing the music for the sake of aesthetic visuals, it was essential that music remained the central theme of this adventure. A skillful combination of all these ingredients would provide the film's emotional tenor.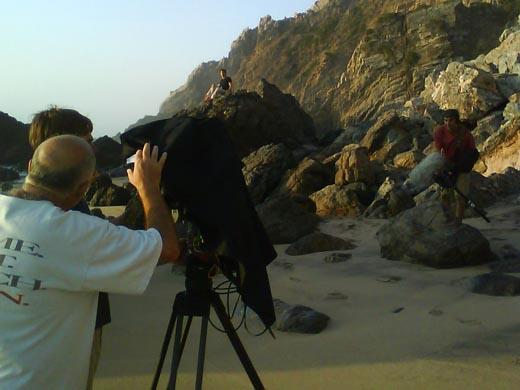 shooting at Lisbon beaches, july 2008
The musical repertoire selected for rehearsals and concerts held during this journey consists of essential and often unusual pages by Bach, Mozart, Chopin, Beethoven, Brahms, Schumann, and Szymanowski.
The highly personal reflections that punctuate these musical sequences navigate the same deep waters as the music. May this serve as an opportunity to thank their author for giving of his heart and mind so overwhelmingly to this project.
Bruno Monsaingeon. June 2009
about « Piotr Anderszewski, unquiet traveller »


---
on Piotr Anderszewski :

---